| ...... | |
| --- | --- |
| | |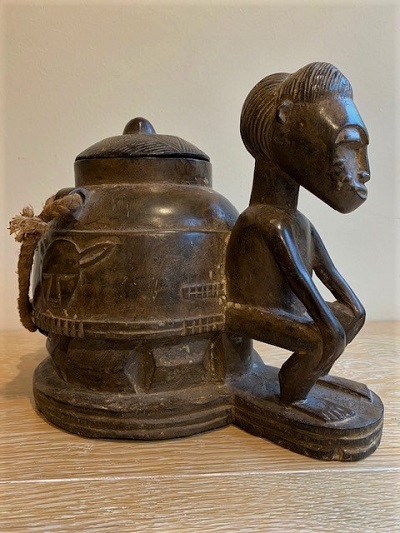 Stock no:300 258
A rare early 20th century "Mouse Oracle" from the  Ivory Coast Baulle diviners to foretell and influence the future. The priest places a few small objects, mostly sticks, in the interior of the vessel - placed in a specific order. Then he digs a small narrow passage near the vessel and scatters some mouse food here. F a mouse comes and eats the food, it gets underneath the wooden pot – and on the lower side of the "mouse oracle" there is a hole. The mouse crawls through the hole into the vessel and through a second hole into the hollow in which the priest placed the sticks. This is how the "mouse oracle" of the Baule people functions. Carved from a solid piece of wood and originally dyed black. 
11"w x 9 ½"h x 8"d  
28cm w x 24cm h x 20cm d 
Circa 1930
£ 395

painting-spare
Due to our large selection of  furniture we are unable to display all of the items in stock .
If after looking through our web site you can't find what you are looking for
Email us at: enquiries@gatewayantiques.co.uk and we will get back to you with a picture,
sizes and any other information that you require. 
Copyright Notice
All pages contained within this site, inclusive of images and text are copyright © 2011 Gateway Antiques,
unless otherwise noted. Reproduction without direct written authorisation is prohibited.
Terms and Conditions of Use
This site is provided with no warranty of any kind. Gateway Antiques are not liable for any misinformation
or errors contained within the site. Errors and Omissions Excepted.