| ...... | |
| --- | --- |
| | |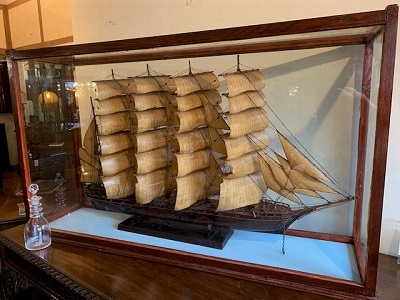 Stock no:Potosi
The Potosi under full sail 
A large mid 20th century oak cased scratch built carved wooden barque sailing ship in excellent condition
Potosi named after the Bolivian town of Potosi (highest city in the world) was a five-masted steel barque built in 1895 by Joh. C. Tecklenborg ship yard in Geestemünde, Germany, for the sailing ship company F. Laeisz as a trading vessel. Its primary purpose was as a "nitrate clipper" collecting guano in South America for use in chemical companies in Germany (mainly for making explosives and fertiliser). As its shipping route was between Germany and Chile, it was designed to be capable of withstanding the rough weather encountered around Cape Horn. The total number of officers and crew for the Potosi, was 44 men. The ship could carry 6,400 tons of cargo, and with good weather conditions attain a speed of 19 knots. But the voyage speed average was pulled down by the long spells of calm between the trade winds.   
Case size
53"w x 30"h x 14"d
132cm w x 76cm h x 36cm d
£795

painting-spare
Due to our large selection of  furniture we are unable to display all of the items in stock .
If after looking through our web site you can't find what you are looking for
Email us at: enquiries@gatewayantiques.co.uk and we will get back to you with a picture,
sizes and any other information that you require. 
Copyright Notice
All pages contained within this site, inclusive of images and text are copyright © 2011 Gateway Antiques,
unless otherwise noted. Reproduction without direct written authorisation is prohibited.
Terms and Conditions of Use
This site is provided with no warranty of any kind. Gateway Antiques are not liable for any misinformation
or errors contained within the site. Errors and Omissions Excepted.