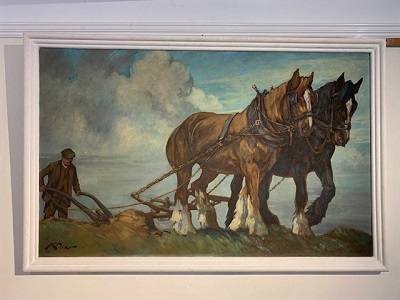 Stock no: 200 173

A large mid 20th century oil on board by Kathleen Irene Nixon (Kay Nixon 1895-1988) of Heavy Horse Ploughing signed K Nixon - bearing gallery label to rear of the Chemould Gallery Show Room 271 Princess St Bombay.
121cm x 75cm

Circa 1970
£895
Kekoo Gandhy, founder of Chemould Frames, later expanded his vision beyond framing into art, becoming one of the founding fathers of contemporary Indian art. The art gallery he founded in 1963 is now a separate entity from Chemould Frames and continues to thrive as the contemporary art gallery Chemould Prescott Road.  
Kay Nixon (1895-1988) Nixon was a talented British animal illustrator noted for an orientalist approach and sharp clarity to the subject, reminiscent of Japanese woodblock prints. She lived in India for 25 years, where she illustrated for the Time of India Press, designed 30 nature posters for the Indian State Railways, painted horse portraits and a mural of wild ducks for the Bombay Natural History Museum. After returning to England, she wrote and illustrated numerous children's animal stories and painted animal portraits. Kay's best know illustration is Brer Rabbit and furry farmyard friends. She was the recipient of many awards and medals and made an 'Academic of Italy with Gold Medal' in 1980. She exhibited in 1920-26 in Birmingham and Coventry. She studied at the Camden and Birmingham Schools of Art. She illustrated in 40 books , five of which she wrote herself. 


Due to our large selection of  furniture we are unable to display all of the items in stock .
If after looking through our web site you can't find what you are looking for
Email us at: enquiries@gatewayantiques.co.uk and we will get back to you with a picture,
sizes and any other information that you require. 
Copyright Notice
All pages contained within this site, inclusive of images and text are copyright © 2011 Gateway Antiques,
unless otherwise noted. Reproduction without direct written authorisation is prohibited.
Terms and Conditions of Use
This site is provided with no warranty of any kind. Gateway Antiques are not liable for any misinformation
or errors contained within the site. Errors and Omissions Excepted.