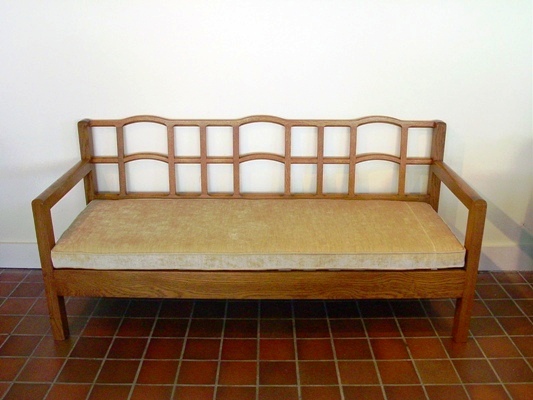 A recently made Cotswold School oak settee in the Arts & Crafts style of the early 20th century after a design by Sidney Barnsley (1865 - 1926).
Sidney Barnsley came from Birmingham, studied at the Birmingham School of Art and went on to the Royal Academy's Architecture School (1885-7). Simultaneously with his studies as the RA, he trained as an architect in Norman Shaw's London office.
He moved to the Cotswolds in company with Ernest Gimson* and his brother Ernest Barnsley in 1892. All three men were all interested in the revival of rural life in general and of craftsmanship in particular. Sidney Barnsley concentrated on teaching himself the basics of carpentry and cabinetmaking, living and working firstly at Pinbury, then in the village of Sapperton, where he designed and built his own house. Here he made furniture and woodwork in an outbuilding in his garden, generally to design drawings. Like members of the Gimson workshop, he made everything by hand and from solid English timbers, employing decorative gouged carving and inlays of geometric design.

Due to our large selection of  furniture we are unable to display all of the items in stock .
If after looking through our web site you can't find what you are looking for
Email us at: enquiries@gatewayantiques.co.uk and we will get back to you with a picture,
sizes and any other information that you require. 
Copyright Notice
All pages contained within this site, inclusive of images and text are copyright © 2011 Gateway Antiques,
unless otherwise noted. Reproduction without direct written authorisation is prohibited.
Terms and Conditions of Use
This site is provided with no warranty of any kind. Gateway Antiques are not liable for any misinformation
or errors contained within the site. Errors and Omissions Excepted.